Madeno News
2020.02.28
Bilstein BMR14 Clio 3 RS coilover trackday suspension
Het BMR (Bilstein by Madeno Racing) suspension programma voor de Clio 3 Renault Sport trackday machines is uitgebreid met een full coilover BMR14 Racelline suspension kit.

BMR14 McPherson voorstruts zijn uitgerust met mono-tube upside-down schokdempers, lineaire veren, air-bleeding systeem en speciale off-set top mounts welke een ruime toename in camber & caster genereren. Voor de achterwielophanging hebben de Madeno Racing suspension engineers een volledig coilover systeem ontwikkeld. De bovenste montage brackets maken de montage van Ø46mm mono-tube achterschokdempers mogelijk.

Naast de lineaire motorsport veren kunnen inwendige calibratie van de BMR14 schokdempers door Madeno Racing eveneens volledig tailor-made naar persoonlijke wens en toepassing worden afgestemd. De BMR14 Raceline coilover suspension kit verschaft de Clio 3 RS een fenomenale track-performance en handling capaciteiten.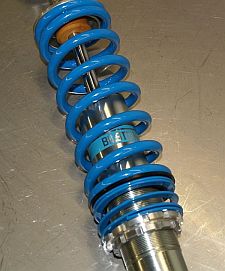 features Bilstein BMR14 Raceline suspension

front McPherson struts with air bleed systems
monotube upside-down damper technology
customized revalved damper calibrations
linear high-performance motorsport front springs
offset front top mounts with spherical bearings
increased front camber & caster geometry
rear full coilover Ø46mm mono-tube dampers
fully ride-height adjustable rear suspension
new designed rear upper mounting brackets
linear rear main & helper motorsport springs
tailored front & rear trackday damper valvings
customized spring rates available on request
fully serviceable by Madeno Racing
contact Leo van der Maden voor meer gedetailleerde mogelijkheden en tailor-made mogelijkheden.
T. 0031 (0)187 641144 / E.
[email protected]
« back