Madeno Used Cars
Öhlins Racing suspension programme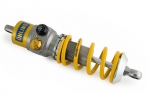 TTX36 Inline
Öhlins has seen a demand for a light weight damper with
an integral reservoir for various purposes for vehicles like
Formula 3 and Historic racing cars.
It is now possible to use the new TTX36 damper where it has been impossible earlier, like for some
Formula cars and for applications where rules prohibit external reservoir.
The damper has an inline reservoir with improved internal oil flow and is of a non-through rod type.
The basic configuration of the TTX36 is 2-way adjustable, 1-way compression and 1-way rebound,
but it is easy to upgrade to become 3- or even 4-way adjusted.
The big advantage with the damper is the internal reservoir that makes it very compact and easy
to package. It might also be possible to use it in applications that do not allow external reservoirs.
Features:
TTX-technology without cavitation risk
Integrated reservoir
Compact design
2-way adjusted, compression and rebound
Upgrade possibility to 3- and 4-way adjustable
Available in 5 different lenghts (measured without end- and top-eye)
Suitable for single-seaters and historical racing
Suitable for cars where external reservoirs are not allowed or can be fitted
Fully rebuildable & revalveable by Madeno Racing
« back