Madeno Used Cars
Öhlins Racing suspension programme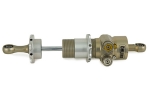 TTR
The TTR - a high end 4-way fully adjustable damper based on winning technology from Le Mans, DTM, ALMS and IndyCars.
Öhlins TTR damper - a 4-way fully independent adjustable racing damper based on well proven technology that has been behind winning success for many years in high-end factory racing in DTM, Le Mans and IndyCars. This high-end racing damper is now available for teams seeking optimal performance and on-track success.
Features include a precise valving system, both high and low speed can be zeroed externally to ensure an accurate matching between dampers while at the same time maintaining reference clicks.
The TTR damper combines uncompromising peformance with user friendly handling, for instance change valving in close to one minute.The damper also comes with valving simulation software, drastically reducing time from development to ready damper and helps making accurate adjustments at the track.
Features:
4-way fully independent adjustable damper
solid piston
well proven valve technology
through-rod design to minimize hysteresis
large adjustment range
uncompromising performance
change valving in close to 1 minute
valving development with simulation software
precise valving system
optional blow-off system kit available
both low- and high- speed can be zeroed externally
fully rebuildable and revalveable by Madeno Racing
« back