Madeno Used Cars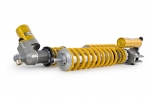 ALR TPX/TTX
The allround Rally & Rallycross range consists of the new generation TPX/TTX rally dampers
They have proven themselves in the toughest of conditions. This range with a set of universal struts and dampers are aimed at rally & rallycross applications.
TPX44 McPherson Rally strut
The strut is a twin piston McPherson TPX44 strut with a 44 mm diameter piston. It is three-way adjusted, one-way rebound and two-way compression.
TTX44 Rally damper
The damper is a four-way adjusted twin tube TTX44 damper. The shaft adjuster is a course rebound adjuster, while the single adjuster in the cylinder head is a fine tuner with a two-way compression adjuster. The damper has a 44 mm piston.
TTX46 Flow RX Rally damper
The 2-way adjustable TTX Flow gives the car improved traction, comfort & predictability which enhance the stability of the car. TTX Flow dampers are performed with new designed 'check-valve' systems to balance wide valve openings and quick open/close actions to handle a large volume of oil flow.
TTX Rally & Rallycross dampers are fully pressure balanced, eliminating the risk of cavitation and due to low-gas pressure they keep the internal friction level low. There is a whole range of optional parts to tailor the dampers to any specific needs.
The dampers can be built and modified for more or less any Rally and Rallycross vehicle and has been winners since the launch.
Features TPX44
McPherson strut
Piggyback reservoir
44 mm Twin Piston Technology (TPX)
3-way adjustable damping control
fully pressure balanced
Progressive Damping System (PDS)
DCC (Dynamic Compression Control)
DRC (Dynamic Rebound Control)
fully rebuildable & revalveable by Madeno Racing
Features TTX44
Conventional shock
Piggyback reservoir
44 mm Twin Tube (TTX)
3-way adjustable damping control
upgradeable to 4-way adjustable
fully pressure balanced
Progressive Damping System (PDS)
DCC (Dynamic Compression Control)
DRC (Dynamic Rebound Control)
fully rebuildable & revalveable by Madeno Racing
Features TTX46 Flow
Patent pending pressure technology
Piggyback reservoir
46mm piston
2-way adjustable damping control
Progressive Damping System (PDS)
optional 3-way adjustable damping control
optional DCC (Dynamic Compression Control)
optional DRC (Dynaimc Rebound Control)
fully rebuildable & revalveable by Madeno Racing
« back