Madeno Used Cars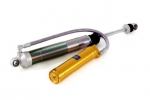 ORQ Rally Raid & Off-Road
The ORQ series off-road dampers has been a success in
all kinds of Rally Raid & Off-Road events.
The
ORQ 16/46
was first out designed with Off-Road and Rally Raid cars in mind as well as simular kinds of vehicles where this layout is suitable.
It has a swiveling hose for increased flow potential and ease of mounting on the vehicle. The dampers are of a 46 mm piston type with remove reservoirs. They have compression and rebound adjusters together with the PDS (Progressive Damping System). The dampers come with a protecting sleeve and two circlips to help prevent spring wear.
Features ORQ 16/46
46 mm piston
Remote reservoir
Available in three different lenghts
PDS (Progressive Damping System)
2-way adjustable
fully rebuild & revalveable by Madeno Racing
The
ORQ 18/50
is the next step in the Öhlins ORQ series for Rally Raid and serious Off-Road.
Suitable for off-road and rally-raid this new damper features a 50 mm piston and 18 mm piston rod. The whole design is very robust to withstand the high forces and demands presented in off-road
such as rally raid and similar events.
Details such as spherical plain bearings and the rebound adjustment has been reinforced.
The ORQ 18/50 also features the new improved PDS (Progressive Damping System), feature on Öhllins rally dampers.
It's available in two versions, either with the reservoir in a piggyback version or in a remote hose version. The 18/50 is two-way compression adjustable and one-way rebound adjustable.
Features ORQ 18/50
50 mm piston
18 mm piston rod
PDS (Progressive Damping Systmen)
3-way adjustable
robust design
lightweight aluminium body
available in three different lenghts
optional custom build up to 350 mm stroke
optional piggyback cylinderhead available
fully rebuild & revalveable by Madeno Racing
« back