Madeno Used Cars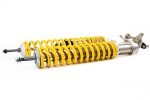 Ford historic Rally
The superior Öhlins Ford Escort MkI & MkII historic Rally suspension has already shown top performance in various historic Rallies.
The new strut design makes the front damper fit the MkI & MkII versions of the legendary Ford Escort historic
Rally-machines
. The piston shaft is 16mm hollowed with a valve and jet making it externally adjustable. This one adjusts both compression and rebound with the use of a bleed system, the dampers are also equipped with a temperature compensating system which guarantees maximum performance under the most extreme conditions. This in combination with Öhlins bushing and seals gives low friction even on very high loads.
The rear shock is a 46mm damping piston used together with a 16mm piston shaft. Compression and Rebound is externally adjustable with one adjuster. As well as the front the rear dampers has the temperature compensating system. Both front and rear dampers are fully rebuildable and revalveable to tailor make settings depending on drivers preferences and type of rally applications. Both front and rear damper units will be delivered with high-performance competition springs.
Features front suspension strut
complete strut MkI & MkII versions
including high-performance spring
16mm piston shaft
external adjuster for compression & rebound
equipped with temperature compensating system
balanced damper setting
fully rebuildable and revalveable by Madeno Racing
Features rear damper unit
damper unit including high-performance spring
46mm piston and 16mm piston shaft
external adjuster for compression & rebound
equipped with temperature compensating system
balanced damper setting
fully rebuildable and revalveable by Madeno Racing
« back