Madeno Racing

authorised Endless dealer Madeno provides your racing car with not only superior brake performance, but also excellent technical support to achieve the perfect brake balance and the best suitable pad compound.

Pads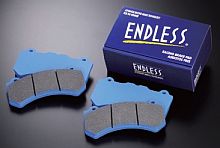 Endless offers you a wide range of Touring, GT, Formula,
Prototypes and F1 brake pad compounds with outstandig
brake performance under the most demanding Sprint and
Endurance racing competitions. and will keep doing that
mile after mile....






Discs
Endless Racing discs are developed and manufactured exclusively for motorsport applications, the multi-vane technology incorporated in to the racing discs allows them to run cooler, while makes the discs more stiff and rigid.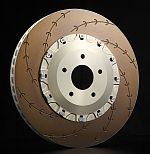 the lightweight rotors are made from specially heat treated carbon steel which offer you an extreme long run time and excellent performance.
all Endless Racing discs are delivered pre heat treated.


E-slit
the E-slit rotor is comprised of the narrow curved slit incorporated with
4 smaller E-slits. The smoother shaving of the pad by the long curved
slit and the increased friction provided by the E-slits maintain optimal
brake pad condition at all times. The rotor material is comprised of a
special carbon blend and Endless original technology, facilitating ultra stable mu-levels, decreasing heat cracks and extracting 100% of the brake pads perormance. Slits are designed for optimal shaving.

Bell housing
the Bell-housing material is a rigid, lightweight, high strenght aluminum alloy metal capable of withstanding high temperatures. it also decreases unsprung weight, which contribute to stable braking.


Mono4 & Mono6 calipers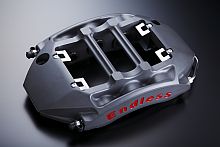 the Mono-4 and Mono-6 piston calipers are produced
with the same technology and has ones again
achieved the highest of standards in rigidity and
lightweight specifications. The difficult and complex
manufacturing of the piston cylinders has been
achieved through highly advanced engineering.
The body is made with only the strongest aluminum
material. This is the highest performance achievable
using the highest production technology and quality
of materials


Racing4 & Racing6 calipers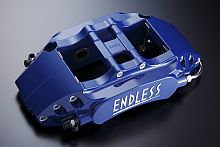 the Racing-4 and Racing-6 piston calipers has been
expanded tested in the highest competitions and
developed through feedback from the tracks.
The forget aluminum construction increases life and
heat resistance. a maximum rotor diameter of 400mm
can be used. This is the best matched caliper created
from experience with the highest powered cars on track.




Endless RF-650 brake fluid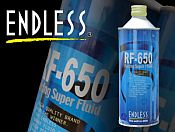 Endless Super Racing Brake fluid is used in Formula 1.
WEC, WTCC, TCR, GT and 24h Endurance racing where the
braking temperatures reach extremely high. Thanks to the
high volocity and the even viscosity in the fluid the respons
in the brake system is very fast and precise regardless
of the temperature. Very stable performance characteristics
can be achieved. The FR-650 is becoming recognized as the
highest-spec. brake fluid around the world.
---