Madeno News
2018.02.23
Öhlins TTX racing suspension new Cupra TCR & WTCR
de nieuwe Cupra TCR & WTCR racing machines kunnen per direct worden uitgerust met superieure Öhlins TTX competitie schokdempers. De Öhlins Cupra TCR/WTCR schokdempers zijn officieel FIA gehomologeerd voor zowel het WTCR kampioenschap alsook alle andere nationale & internationale
TCR-series.

voor VLN deelname kunnen de Cupra TCR schokdempers door Madeno Racing worden voorzien van specifieke NS-demper settings welke door Madeno zijn ontwikkeld voor competitie gebruik op de legendarische Nordschleife.

het Öhlins Cupra TCR race suspension system is uitgerust met geavanceerde 2-weg verstelbare TTX46 MT McPherson struts met through rod technology en externe reservoirs. De hoogwaardige S46 competitie achterschokdempers zijn eveneens voorzien van 2-weg verstelling en externe reservoirs.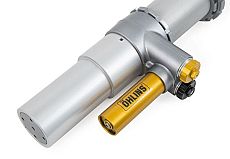 features Öhlins Cupra TCR / WTCR racing suspension

TTX46 MT MkII McPherson front struts
external reservoirs, 2-way adjustable
46mm solid piston with a 30mm through rod
optional Blow-off systems available
ultra rigid and lightweight strut design
special aluminum alloy outer tubes
S46 racing rear dampers with 46mm pistons
2-way adjustable with external reservoirs
fully rebuildable & revalveable by Madeno Racing
Naast de Cupra TCR & WTCR competitie schokdemper service, rebuild en revalving faciliteiten biedt Madeno Racing eveneens een uitgebreidt scala aan setup en track-support services waar door Cupra teams en coureurs tijdens tests of racing events geheel naar persoonlijke wens en behoefte een beroep
op kan worden gedaan.
contact Leo van der Maden voor meer gedetailleerde informatie en tailor-made mogelijkheden.
T. 0031 (0)187 641144 / E.
[email protected]
« back