Madeno News
2019.12.01
Öhlins DFV suspension technology voor de nieuwe VW Touareg
Voor de laatste nieuwe VW Touareg generatie III versies welke zijn voorzien van het MLB platform hebben Madeno suspension engineers een Öhlins suspension kit met DFV technologie ontwikkeld.

Naast de verstelbare rijhoogte is tevens ook de demping van de hoogwaardige Öhlins DFV schokdempers geheel naar individuele wens instelbaar. De uitzonderlijk verbeterde rij - en stuureigenschappen worden hierbij gecombineerd met een aanzienlijke toename van het rijcomfort.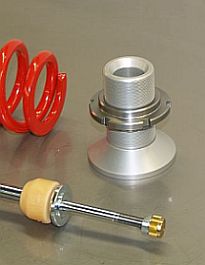 features Öhlins Touareg DFV suspension

superior road handling without sacrificing comfort
uncompromising quality, reliability and performance
DFV (Dual Flow Valve) patented technology inside
1-way combined adj. compression & rebound control
fully ride-height adjustable front and rear
upside-down front damper technology
aluminum rear ride-height spring adjuster kit
rear length adj. dampers for optimum damper stroke
Eibach ERS high-performance linear front & rear springs
customized spring rates available on request
fully serviceable suspension by Madeno Racing
contact Leo van der Maden voor meer gedetailleerde
informatie en uitgebreide tailor-made mogelijkheden.
T. 0031 (0)187 641144 / E.
[email protected]
« back