Madeno News
2019.12.19
Öhlins DFV Sport suspension Acura MDX
Madeno suspension engineers hebben voor de Acura MDX een geavanceerde Öhlins Sport suspension kit
ontwikkeld. Zowel de McPherson voorstruts als ook de coilover achterdempers zijn beiden uitgevoerd als
upside-down systeem en inwendig uitgerust met geavanceerde DFV (Dual Flow Valve) technology.

Naast verstelbare rijhoogte beschikken de superieure Öhlins DFV schokdempers over manueel instelbare
demping voor zowel de ingaande alsook uitgaande demping karakteristiek. De nieuwe Öhlins DFV Sport
suspension kit verschaft de Acura SUV formidabele rij- en stuureigenschappen.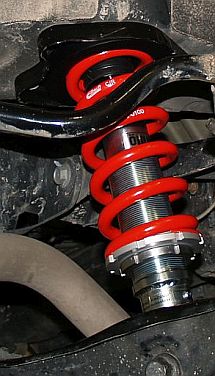 features Öhlins Acura MDX Sport suspension
superior road handling without sacrificing comfort
uncompromising quality, reliability and performance
increased overall chassis balance & grip levels
improved steering precision & driver feedback
dramatically reduced body-roll and understeer
improved overall handling capabilities
front McPherson struts with upside-down technology
front adjustable top mounts with spherical bearings
front struts performed with axial bearings
rear full coilover upside-down damper technology
patented DFV (Dual Flow Valve) technology inside
1-way combined adjustable compression & rebound
fully ride-height adjustable front and rear
Eibach ERS high-performance linear springs
customized spring rates availalbe on request
fully serviceable suspension by Madeno Racing
contact Leo van der Maden voor meer gedetailleerde
informatie en uitgebreide tailor-made mogelijkheden
T. 0031 (0)187 641144 / E.
[email protected]
« back