Madeno News
2020.11.20
high-performance Bentley electronic sport suspension
Voor de Bentley Arnage, Brooklands en Azure modellen hebben Madeno suspension engineers een ultra high-performance electronic sport suspension conversie kit ontwikkeld.

Naast een volledige revisie van de originele elektronische Bentley schokdempers worden tevens de dempersettings van de elektronische verstelbare comfort & sport mode inwendig volledig re-valved.

De elektronische voorschokdempers worden voorzien van custom-made coilover sleeves inclusief rijhoogte verstelbare veerschotels en lineaire Eibach ERS veren met geoptimaliseerde veerconstante.
Voor de achterwielophanging is een nieuw rijhoogte verstelbaar veerschotel systeem ontwikkeld welke montage van Eibach ERS lineaire veren mogelijk maakt.

De nieuwe Madeno sport suspension conversie kit verschaft de Bentley modellen formidabele rijeigenschappen gecombineerd met ultiem rijcomfort en een optimale handling performance.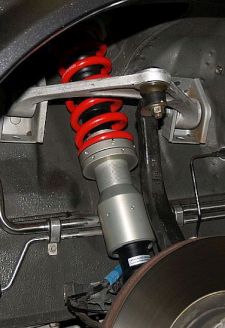 features Bentley electronic sport suspension conversion

front & rear electronic factory damper rebuilds
new designed improved damper topguides
optimized revalved electronic comfort-mode
optimized revalved electronic sport-mode
fully ride-height adjustable conversion kit
lowered front ride-height 20 - 50mm
lowered rear ride-height 20 - 40mm
new alu. topmounts with spherical bearings
optimized linear front and rear spring rates
increased front and rear compression strokes
superior road handling without sacrificing comfort
supplied with Bentley damper rebuild certificate
2-year unlimited warranty
contact Leo van der Maden voor meer gedetailleerde
informatie en uitgebreide tailor-made mogelijkheden.
T. 0031 (0)187 641144 / E. leo@madenoracing.com
« back