Madeno News
2022.03.31
Öhlins Tesla Model 3 Road&Track suspension
For choosing a best writer
you could try the best online essay writing services
a writer and placed an order, you can get an estimate of how long it will take to complete your order. The ordering process itself is fairly easy to navigate. There are sections that ask about the paper and the deadline, so you can describe your order to a tee. Once you've entered the necessary information, you'll need to make the final payment. The first stage of ordering will ask you to fill out the form. This will help the writers match your requirements.
de Tesla Model 3 versies kunnen vanaf mei 2022 worden voorzien van superieure Öhlins Road&Track
suspension technology.
inwendig zijn de nieuwe Öhlins Tesla Model 3 schokdempers voorzien van het gepatendeerde DFV
(Dual Flow Valve) systeem. De rijhoogte op de vooras wordt middels een unieke rijhoogte verstelling
geheel naar persoonlijke wens afgesteld waarbij een optimale in- en uitgaande schokdemperslag
gewaarborgd blijft.
middels de rijhoogte verstelbare veerschotels en lengte afstelbare aluminium achterschokdempers
kunnen een optimale rijhoogte, veerweg en schokdemperslag op de achteras worden gerealiseerd.
voor & achterschokdempers zijn voorzien van 1-externe versteller waarmee zowel de compressie
alsook de rebound demping optimaal naar de gewenste rijeigenschappen kan worden afgesteld.
de nieuwe Öhlins Road&Track suspension kit verschaft de Model 3 exceptionele rijeigenschappen,
fenomenale handling, stuurprecisie, grip levels en een uitzonderlijke chassis balans.
features Öhlins Tesla Model 3 Road&Track suspension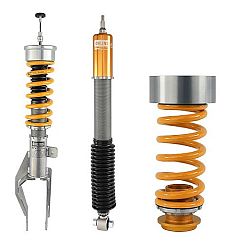 • superior handling without sacrificing driving comfort
• uncompromising performance, quality and reliability
• exceptional levels of damping control & refinement
• unique ride-height and damper stroke adjustments
• fully adjustable front and rear ride-height
• patented DFV (Dual Flow Valve) technology inside
• 1-way combined compression & rebound adjustable
• ultra lightweight alu. dampers with ø46mm pistons
• high-performance Öhlins linear front & rear springs
• customised spring rates available on request
• tailor-made damper and DFV valvings available
• fully serviceable and rebuildable by Madeno Racing


contact Leo van der Maden voor meer gedetailleerde
informatie en pré-order mogelijkheden, alsook tailor-
made setup, montage en wielgeometrie optimalisatie.
T. 0031 (0)187 641144 / E.
[email protected]
« back